ON FOOT THROUGH THE CARDÓ MOUNTAIN RANGE
The Serra de Cardó. The Spa, the route of the Hermitages and the Cross of Saints
The Cardó mountains make up one of the most charismatic mountains in Terres de l'Ebre. Most of the massif extends between the municipalities of Benifallet and Rasquera. Its inner slope descends to the Ebro, to the south and south-east it continues along the Boix mountain range. The steep Cardó valley, open to the north-west, is drained by the Cardó ravine, a tributary to the left of the Ebro. In this area, rainfall is scarce but the permeability of the limestone rocks causes underground currents that give rise to medicinal springs that drain through the steep cliff of Sallent, crowned by the spa, and the old Carmelite convent of Cardó. The ridge culminates in the Creu de Santos and is crossed by horseshoe paths that connected Benifallet and Rasquera with Tivenys and Tortosa. The old medieval towns of Sallent, Cardó and Costumà, to the north, and especially of La Fullola and La Bassa de Cascall have completely disappeared.
The Cardó mountain range, apart from giving us our wonderful caves, also offers us many routes to do with the family, sports hiking or of any kind!
Here you have a proposal of walks and excursions ON FOOT BY CARDÓ, by Arola Edicions and with texts and photographs by Rafel López Monné.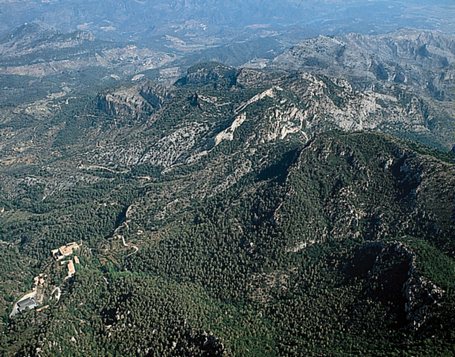 THE ROUTE OF THE HERMITAGES
The Cardó Spa -currently in ruins- can be accessed by road from Rasquera, where you can start several routes; among them the route of the Hermitages - that formed part of the spa - and the access to go up to the Cross of Santos, to 942 meters.
Of the fourteen built, thirteen are preserved today, more or less altered and demolished, which are as follows:
Hermitage of San Jose. Built by Josep Dalmau, from 1611
Hermitage of the Angel Custodi. Founded by the community itself, from 1612
Hermitage of Saint Simeó, l'Estilista o de la Columna. Founded by the community, from 1612
Hermitage of Santa Teresa. Built by Francesc de la Mare de Déu, from 1612
Hermitage of San Jeroni. Built by Jeroni Ferrer, from 1613
Hermitage of nostra senyora del Carme. Founded by the community, from 1613
Hermitage of Santa Anna. Founded by the community, from 1614
Hermitage of Sant Onofre. Built by Jeroni Ferrer, from 1616
Hermitage of Sant Joan Baptista. Built by Agraïda de Pinós, from 1616
Hermitage of Santa Agnés. Founded by the community, from 1622
Hermitage of Sant Elies. Built by Pere de Sant Joan, from 1673 (today the Borboll hermitage)
Hermitage of the Nativitat de la Nostra Senyora. Built by Pascual of Aragon, in 1676 (known today as the Trinitat)
Hermitage of San Roc. Without knowledge of the date of construction.
THE PASTISSET RACE
Cardó is the epicenter of one of the most outstanding races of the Terres de l'Ebre Mountain Racing Circuit, the Cursa del Pastisset.